Using the Switchboard Icon
The Switchboard icon should be used in instances where the standard Switchboard logo does not work because of size or format restrictions.
---
Clearspace
In order to gain maximum visibility, the Switchboard icon should always appear with the minimum area of clear space around the icon. It is essential that it remains free of all taglines and identities.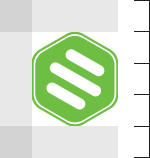 Apply a third of the icon's height as a base for clear space
---
Minnimum Sizing
If you use the Switchboard icon, in order to ensure legibility and visual prominence, it should never appear smaller than the minimum size shown here for print (35 px) and digital (.35") applications.

Minimum width: 25px
---
Color Variations
The Switchboard icon must always appear clearly and legibly on its backgrounds. To help ensure this, the preferred color configuration of the Switchboard icon should appear on white and light backgrounds whenever possible. However, the logo may also appear on dark or black backgrounds as long as sufficient contrast is provided.
Always ensure legibility by placing the icon in an area that is simple and uncluttered. Always observe clear space specifications.
The icon may also appear on other colored backgrounds not specified in these standards as long as sufficient contrast is provided.
These examples show the different types of one and two-color icons as well as the correct color applications of the Switchboard icon on different backgrounds.

Lighter than 50% gray

Darker than 50% gray

Use over light colors or images

Use over dark colors or images
---
Usage Guidelines
The identity system must not be altered or manipulated. Always present the icon and icon fully, being clearly visible./p> Do Not...
alter or partially cover the icon or icon.
alter the proportions, position or letter spacing.
stretch, condense, distort or separate icon or icon elements.
alter the color or add effects (drop shadow, glow, etc).
place an image within the icon.
rotate (vertically, horizontally or diagonally) or flip.
---
More information
To learn how to use the Switchboard Logo, please see the Switchboard Logo page.
Any usage not addressed by the guidelines on this site needs special approval and must be submitted in English to Brand Guidelines. Please allow up to a week for a reply. Switchboard reserves the right to object to any inappropriate uses of its trademarks and to enforce its rights at any time.